School's out, and now you need some spending cash to spend the summer in style. Before you can sell back your used college textbooks for spare change, you've gotta know their value, so you don't get ripped off. To get the most money back on your used textbooks, you have to be able to assure would-be buyers that you've got some great quality used books to sell back. Here are some helpful tips for selling your used textbooks at maximum profit.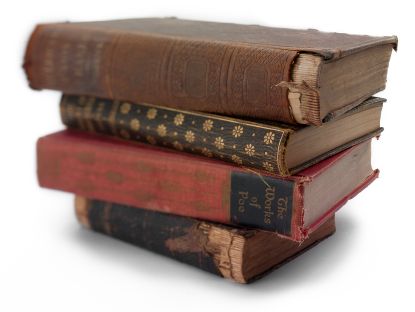 Dog, no!
We know bookmarks slip out easily, but there is just no excuse for dog-eared pages in a book that you hope to sell back. Folding the upper corner because you're too harried to find a piece of scrap paper is a book-lover's crime worthy of punishment. And the penalty? No money back. Zero. Nada. That book is yours forever.
Give yourself extra bonus points for straight, unfolded pages!
Irresponsible note-taking
Unless you're a genius on the caliber of Einstein or Hawking, your college class notes are probably not worth preserving in permanent ink. So please, don't highlight, scribble, or circle must-read talking points all over your used textbook pages. If you suddenly have a groundbreaking epiphany in the middle of lectures, just say it into your iPhone voice diction app, or text it to yourself.
Are your pages clean and doodle-free? High five!
Shelve it
Everything needs a place, and the place to put your textbook is not on the kitchen table where it will get smudged with ketchup or doused with beer. Designate a shelf for storing college textbooks, so that at the end of the semester when you're ready to sell back, you'll get top dollar!
Are the cover and binding still strong, and free of rips or stains?
Find the best book dealer
Once you know how much money your used textbooks are worth, it's time to start selling! Instead of hawking your wares all over the internet, your best bet is to go to an all-in-one bookselling site dedicated to getting you the best deal on used textbooks, for selling and purchasing.
Book Bargain does the work for you. Enter the ISBN number of the textbook you want to sell, and we'll scan the internet to get you the most bucks for your books. Choose from top online book retailers, such as Amazon, alibris, Powell's Books, eCampus, AbeBooks, and Valore Books.
Sell back your used textbooks!